On December 22, 2020, some of our wonderful Kentucky x-ray and ultrasound technicians had the opportunity to get the COVID-19 vaccine at the Thomson-Hood Veterans Center in Wilmore, KY with their frontline healthcare workers and residents. This facility has been such a wonderful partner throughout the pandemic by allowing our technicians to get tested in their building and now including us in their vaccination process as well.
We may not be able to see their smiles but we can see it in their eyes as Hannah Hathorn (ultrasound), Stephanie Gilbert (x-ray), Carla Sempsrott (x-ray), and Michelle Robinson (x-ray) arrive at Thomson-Hood for their first dose of the COVID-19 vaccine. While they will continue to practice all of the necessary safety measures regarding the use of PPE and other standard protocols, they now have a sense of relief having received the vaccine as well.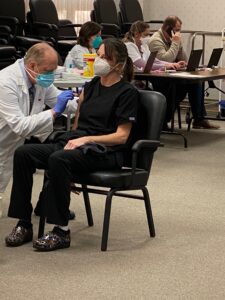 I think Angie Oakey (ultrasound) may be smiling under her mask too as we see her getting her shot!
All of our other frontline healthcare technicians have also been offered and received the vaccine as well if they chose to do so across the states that we offer diagnostic services.
Here's to 2021!!!